Learn About The Viva Explorers
Who are the Viva Explorers?
2022 was the year that the Viva Explorers were officially founded, although the story starts slightly before that. In December 2021, Lesley Crook – the founding Viva Explorer – was encouraged to set up a new blog by her boss at Cloudway, Stale Hansen, to start blogging. She called her blog the Viva Visionary, and published 12 Viva related articles throughout the month of December.
She was joined now long afterwards by Sara Fennah, and then myself and a group of other early Viva evangelists and MVPs, and the Viva Explorers officially became a thing.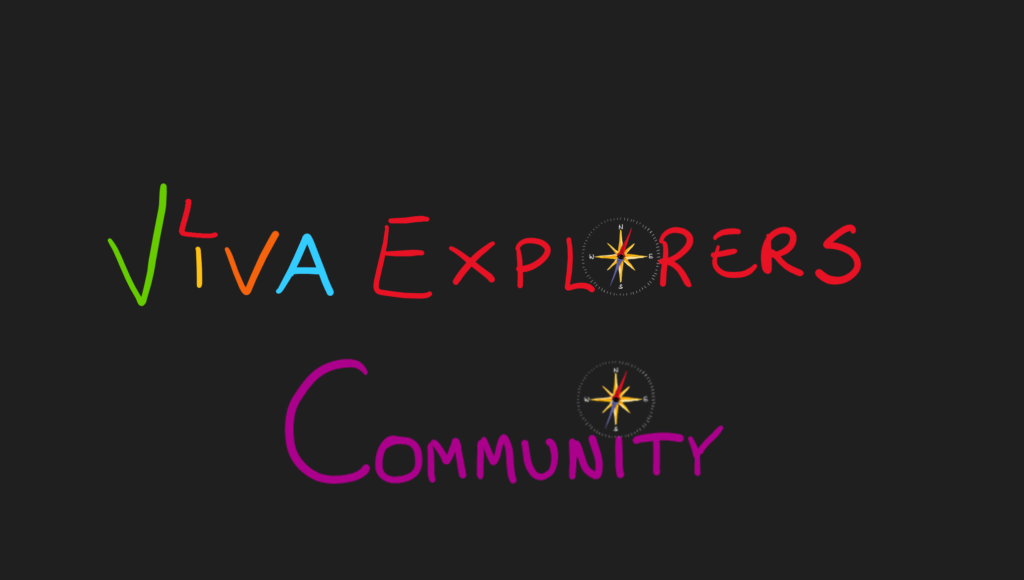 All of the Viva Explorers are Microsoft MVPs or Regional Directors, and this was quite a deliberate decision. Microsoft Viva is such a new product that is changing at pace, with many new modules, features and capabilities being announced in 2022. At this point, in January 2023, we're still under the two-year mark since Viva was even announced publicly, so it is a very new emerging product, and arguably the first full employee experience platform.
We decided early on to keep the explorers to only MVPs and RDs as this would allow us to fully discuss and digest any NDA- information in order to ensure that we understand what is coming from a Viva perspective before it gets announced publicly. We do work closely with a lot of Viva enthusiasts though, who might not be MVPs yet (or even targeting it) but who are out there sharing content and speaking about Microsoft Viva.
One of the other things that we've started to do – which I absolutely love – is to tag-team, and deliver joint sessions with new co-presenters, that we might not have presented with before. In my view, sessions with more than one presenter can be more engaging – as well as easier on the presenters – and allows multiple perspectives and views to be shared in the session. It also makes us better, as it gives us another mechanism by which we can learn from one another.
What the Viva Explorers means to me
Technology as a whole is evolving at an exponential rate, and this makes it more challenging to keep up to date. I need to make sure my knowledge is current so that when I talk to customers and colleagues – or when I present at events – and across the entire Microsoft 365 stack and the wider related tech ecosystem, there is just too much for any one person to manage. One of the clear benefits that I get from being a part of the Viva Explorers is the network of peers, and how we work together to help each other stay up to date and understand what changes mean is incredibly valuable.
I also love the fact that I feel part of something – part of a community who are all working hard on top of our day jobs to educate people around the importance of employee experience, and how Microsoft Viva can be used as the technology platform that enables an improved and equitable employee experience.
Within the Viva Explorers, I'm surrounded by so many fantastic people from around the world who all have different backgrounds, different roles, different areas of focus and expertise, and working with them as part of this community helps me to become a better and more well-rounded leader, as I am able to benefit from their different learnings, perspectives, and viewpoints. I definitely feel like I've found my tribe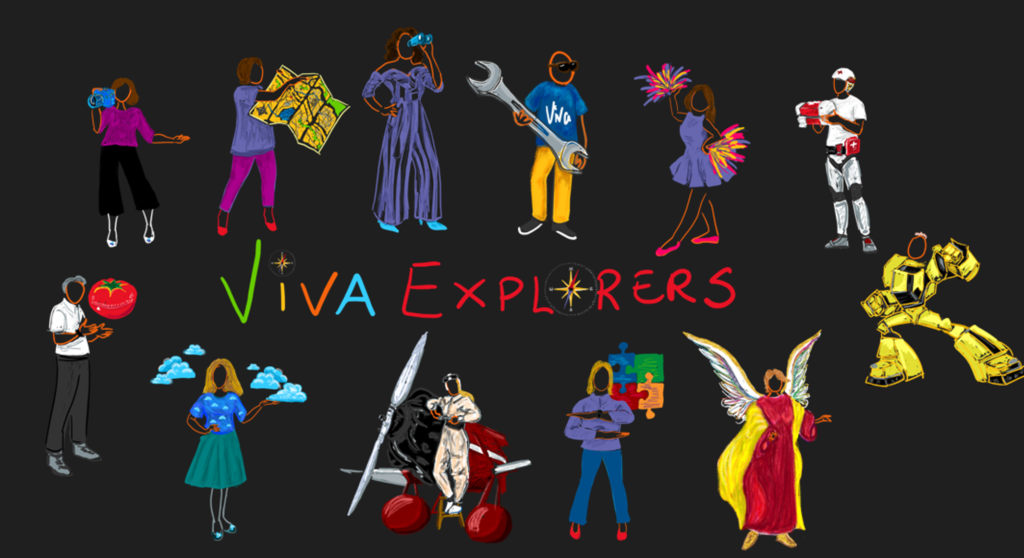 All of the Viva Explorers have a persona, and mine is the Viva Dreamer.
As a senior leader working for Avanade, a global systems integrator, my role requires me to understand the art of the possible with Microsoft Viva and the wider Microsoft 365 stack. I help clients "dream big" and map out their medium to longer-term roadmap for employee experience, collaboration and productivity, and then walk them back through the steps that they need to take to help them get there.
It is important to remember that improving employee experience is a journey, and one that will constantly evolve, but being able to dream big, to map out your vision and strategy for employee experience is vital in making sure that the steps you take along the way will support your longer term goals.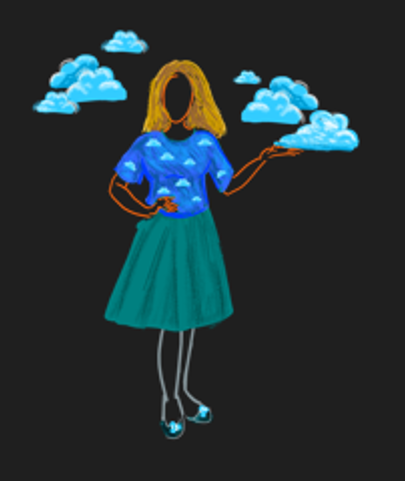 Viva Explorers Highlights in 2022
Last year was a busy year for the Viva Explorers. We delivered Viva sessions at many events – both virtual and in-person – as well as organising our own events for the first time.
In November 2022, we ran the first Viva Explorers Community Day in Manchester, UK, and had almost 50 people join us for a full day of Viva sessions covering the overarching view of employee experience, all the individual modules / pillars within Viva, new products and roadmap announcements, as well as a guest session from Al Eardley sharing the UK Microsoft view.
The following week in early December, a similar event took place in Toronto, Canada, with a whole host of speakers and attendees joining a wide range of Viva sessions.
When I first started speaking at events about Microsoft Viva some 18 months or more ago, audience numbers were quite low – it was a new product, people didn't really understand much about it or the benefits of it, and so interest at that time was low. It's been really heartening for me to see increased attendee numbers throughout 2022, and to see so many people giving up their weekends to travel to events that are solely dedicated to Microsoft Viva.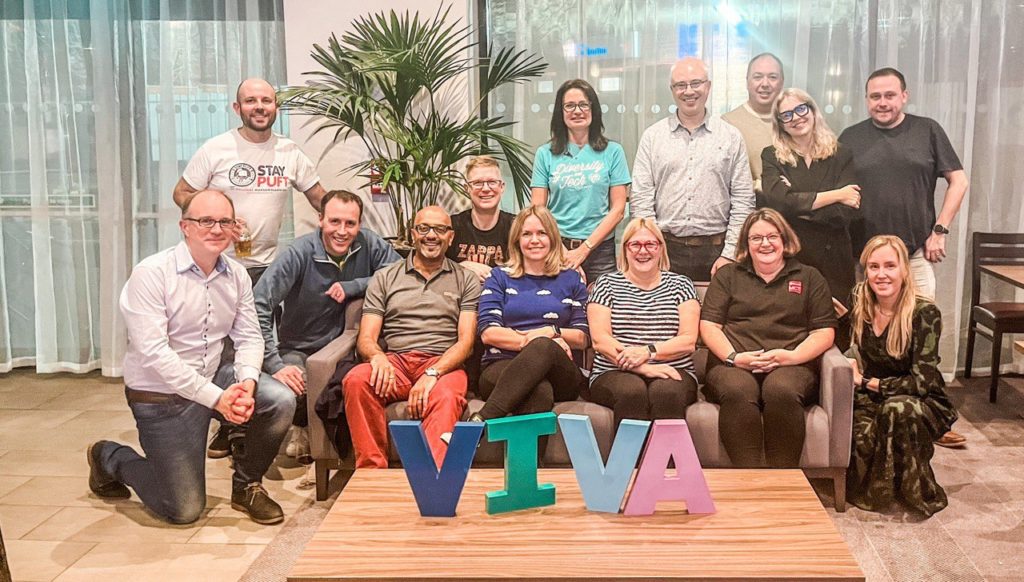 The biggest highlight of the year for me though was the European SharePoint Conference in Copenhagen at the end of November. This is such a big conference with attendees and speakers from around the world, and it was the first place where we were able to get such a big contingent of our global Viva Explorers present in the same place.
Myself, Kevin McDonnell and Chirag Patel delivered a full-day pre-conference tutorial at the start of the week, looking at all things Microsoft Viva and Microsoft Syntex – we had almost 80 people attend which was fantastic. Every time we've delivered this workshop previously, attendees have been capped at ~10 people due to room size, so it was fantastic to have a much bigger audience.
The rest of the Viva Explorers delivered a number of great sessions throughout the main conference, and many of us spent time manning the Microsoft Viva "ask the experts" stand, answering questions throughout the week from attendees.
On one of the conference days, we arranged a Viva Explorers meet-up for a group photo in the event app, and were delighted to be joined by none other than Jeff Teper and Adam Harmetz, who wanted to understand more about who the Viva Explorers were and what we're all about!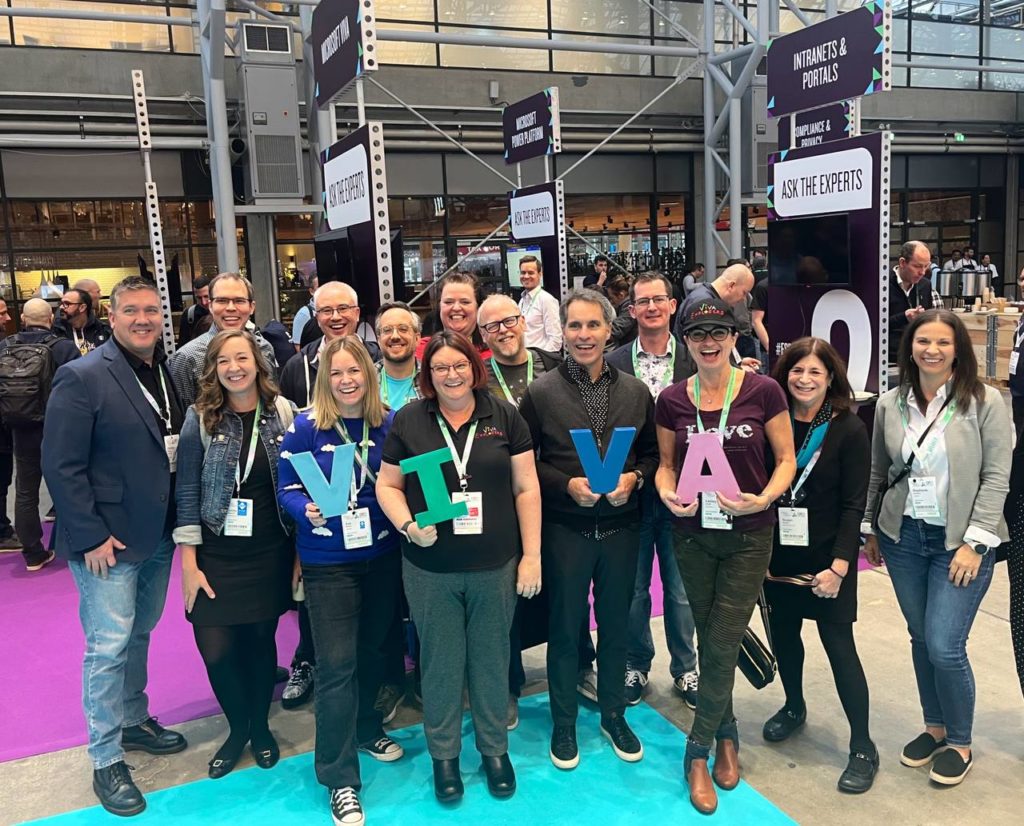 2023 will be a busy year for the Viva Explorers. As a group, we will be presenting at many virtual and in-person conferences globally, sharing our views, perspectives and tips for Microsoft Viva.
Alongside that, we'll also be running more of the Viva Explorers Community Days around the world as well, following the great success of the first two that took place last year, in Manchester and Toronto.
However, one of the activities that I'm most excited about for the Viva Explorers is the opportunity to run a conference within a conference, as we will be hosting the Viva track for Commsverse, which is currently the only dedicated Microsoft Teams conference in the UK and Europe. 
Call for speakers is due to open next week, on the 9th of January, and will include a dedicated track for all things Microsoft Viva. Watch this space for more information about what we have planned throughout the event!
If you run a conference or event and would like support with your Viva track, please reach out to one of the Explorers and we'd be happy to work with you!
Check out the Viva Explorers website to find out more about who the rest of the Viva Explorers are, as well as access our latest content and activities.
If you'd like to know more or get involved, please get in touch.