On the 4th of February 2021, Satya Nadella, CEO, Microsoft, announced Microsoft Viva, calling it the first employee experience platform, designed to bring tools for employee engagement, learning, wellbeing and knowledge discovery directly into the flow of people's work.
During 2020, the whole world participated in the largest at-scale remote work experiment that we've ever seen, and this had a dramatic impact on how we all experienced the world of work. Gone were the days of spending most of our work-week in a physical office, of being able to build serendipitous connections by the watercooler.
No longer were new starters automatically guaranteed to be in the office on their first day, shaking hands and getting a building tour, being introduced to key people from across the organisation. At this point, the physical employee experience was no longer the most important – the digital employee experience became the de facto employee experience, as it was the one constant that all employees had.
Moving to remote – and then hybrid – work required organisations to rethink everything about their employee experience. The values, vision, mission, ethos and very culture of an organisation suddenly had to be present in the digital experience as well as in how people physically interacted with each other, and for many organisations, this was a whole new frontier that they hadn't really got to grips with yet. And to be honest – still haven't in many cases!
In this article, I'm going to take a look back at Viva over the last two years, as well as sharing with you how Viva has benefited me during this time. I'll then talk about Teams as the experience platform, before looking at the opportunities we have before us if bring HR and IT closer together.
Microsoft Viva over the Last Two Years
Microsoft Viva as it was first announced looks very different to what we have today. Initially, there were four modules announced.
Using Microsoft Teams as the scaffold, Viva's early aims were to unify the employee experience across four key areas — Engagement, Wellbeing, Learning and Knowledge — in an integrated experience that empowers people to be their best.
Connections provides a personalized gateway to your digital workplace where employees can access internal communications and company resources like policies and benefits and participate in communities like employee resource groups, all from a single customizable app in Microsoft Teams.
Insights gives individuals, managers and leaders personalized and actionable insights that help everyone in an organization thrive.
Learning makes training and professional development opportunities more discoverable and accessible in the flow of work.
Topics delivers a knowledge discovery experience that helps people connect to information and experts across the company.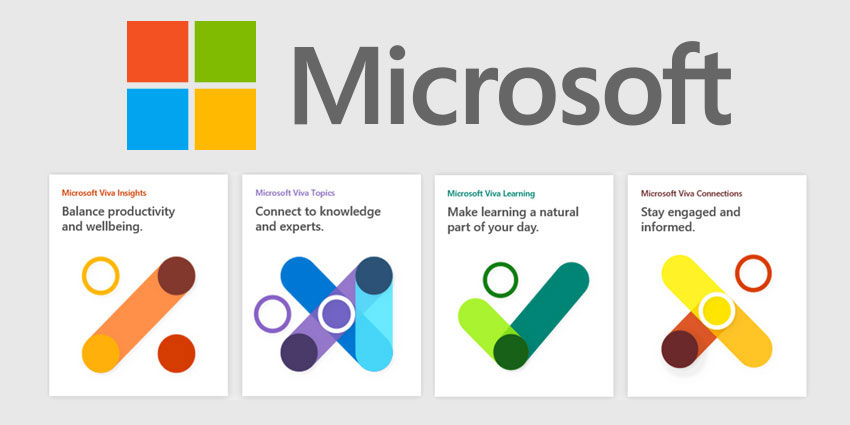 Over the course of it's first year, the primary focus was on releasing the initial modules, and starting to see the use-cases and scenarios in which organisations were proving value. Microsoft gradually started adding new modules such as Viva Engage, Viva Goals and Viva Sales into the mix, and quite quickly, it felt like things were getting quite confusing and messy. It became challenging at points for those of us working in the Microsoft consulting space to keep up, so even more difficult for HR and business teams within end-user organisations.
In September 2022, Microsoft attempted to address this confusion (while also announcing new releases!) by reframing the Viva modules into experience areas, grouped by Connection, Insight, Purpose and Growth. They also announced two new products, Viva Amplify and Viva Pulse, neither of which have become generally available yet.
This really simplified the messaging and made it easier to understand the purpose of each Viva module, and where they all fit together, as shown in the image below. Additionally, the new modules starts to make a more compelling case for investing in the Viva Suite licenses.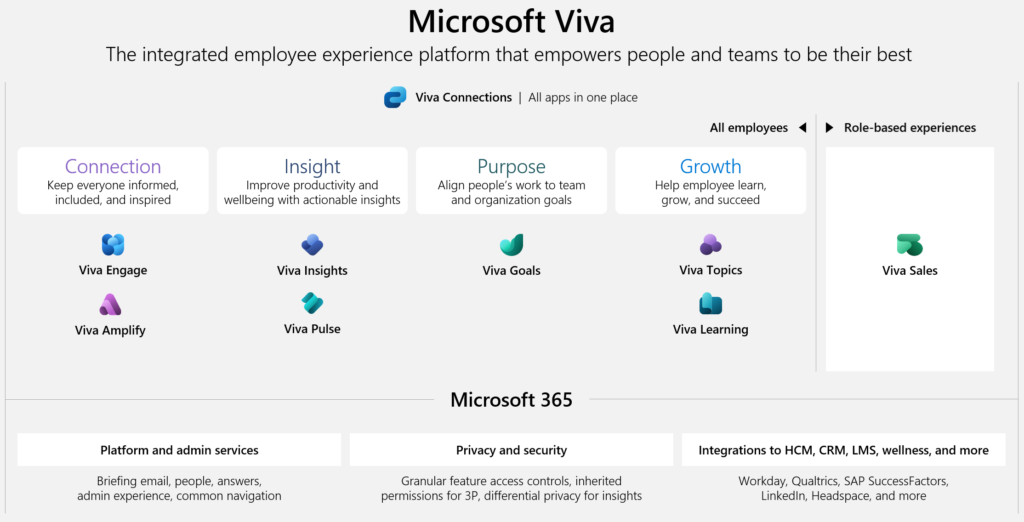 One of the greath strengths of Microsoft Viva is that it is built on top of Microsoft 365, benefitting from the privacy and security features of the M365 platform. It is also designed to be accessed and consumed from directly within the Teams app, which is where people are spending most of their working time.
This is an important step in integrating fragmented workplace tools, and delivering a much improved experience to employees.
I've talked in an earlier blog about being part of the Viva Explorers and what this means to me. When Viva was announced 2 years ago, I was already well underway with my community journey, and just a few months away from being awarded MVP for the first time.
However, at that point, I still hadn't felt like I'd really found my tribe. I'd made loads of friends within the community, but most of them from the Power Platform / business applications space, and while I'd met some great people within the M365 space, I didn't know them well.
For me, one of the most rewarding things about Viva has been the people I've met and the experiences I've had along the way. I've found a group of fantastic friends, who work with the same technologies that I do.While we all have different experiences and perspectives, we've converged on Viva as an area of interest. Not only am I able to learn from and improve my own thinking about Viva, but I've had so much fun with this group of people, and definitely feel like I've found my tribe.
Last year, I changed roles. I moved from an organisation where we had a small number of Viva Suite licenses, with some components deployed and others being tested.I deployed Viva Connections for example in the first week that it was available, and had great feedback from employees across the organisation.
I moved to Avanade, who also have the Viva Suite licenses – however, at Avanade we're using Viva more extensively. When I joined, I onboarded remotely. We have a comprehensive first week for new starters with structured onboarding that is a mix of meetings with our onboarding cohort, and self-paced learning. Outside of that, I used tools like Viva Connections and Viva Topic to really accelerate my onboarding experience.
When I talk about the impact that Viva can have on the employee experience, I've felt this first-hand. Having my intranet in Teams with Viva Connections made it so easy for me to find my way around the digital organisation. The topic pages in Viva Topics helped me get up to speed on key things within Avanade, as well as find all of the assets / collateral, and identify who the key people were for me to talk to about each thing.
I joined communities of interest in Viva Engage (Yammer by any other name…) allowing me to widen my internal network outside of just those people I met through onboarding or my daily work. And then Viva Insights helps me to stay on top of my focus time and manage the impact that I have on my colleagues in how I work and collaborate.
The different components of Viva made a big difference to me in my early days at Avanade, and continue to play an important role in how I manage my time, and find content / people / information that I need. Thinking about employee experience though, the key thing that all of the Viva components have in common is how I access them – and that is through Microsoft Teams.
Teams as the Experience Platform
Microsoft Viva is described as an employee experience platform, however I firmly believe that Microsoft Teams is actually the platform through which we all experience work. Teams is the hub for teamwork, the single pane of glass view into where work gets done.
Viva is an important part of the Teams experience platform, however thinking about your digital employee experience in the context of Teams as a platform allows you to consider a much broader set of opportunities.
We should be thinking about how we can bring more into the front-end system that people use – Teams – and eliminate the need for context-switching and jumping between applications. Teams apps, bots, the collab toolkit and Power Platform all deliver significant capabilities that can be used to achieve these, alongside Microsoft Viva.
The future of work is about ecosystems, and about simplifying the complex for the people who work inside our organisations. To quote Kevin McDonnell, it's about making it easy to do the right thing, and I firmly believe that Teams as the experience platform is the way to achieve this, with Viva playing a key role.
The Opportunities for HR & IT
I was researching HR technology trends last week, and in this article I read the following paragraph that set me thinking:
Now, the wider article does talk about the difference between "employee experience" and "digital employee experience", with the latter expanding to incorporate the wider tools and technologies that are used within an organisation. However to me, this shows that we still need to bring HR and IT closer together.

IT need to understand more about priorities and focus within the realm of HR, and HR need to understand what the art of the possible is when incorporating HR tech into workplace tech. Within organisations, HR typically have their own vision, and their own strategy for driving improvements in employee experience. They've also typically invested in enterprise platforms such as Workday, SAP SuccessFactors, Cornerstone and so on. They have made big investments both financially but also in terms of the time and effort spent designing, implementing and managing these platforms.
The IT department typically don't understand enough about how these platforms are used and consumed, what features and functionality they have. Likewise, for HR colleagues, they are learning about the potential that Viva has, and struggling to figure out where it fits into their employee tech landscape.

For me, it isn't that either of these groups are wrong in what they are doing. It is that we haven't yet found the middle ground in all cases. It isn't either HR tech OR Viva. For me, this is an equation with an AND. Viva – and Teams as the experience platform – acts as the middleware, the tool that can drive an improved employee experience across the board. The Viva partner ecosystem is already large, as you can see in the image below – and continues to grow, with the integrations continuing to mature and develop.

There is a huge opportunity to significantly improve the employee experience if we can bring HR and IT closer together, get them talking to each other and understanding more about what they each bring to the table in terms of platforms and capability.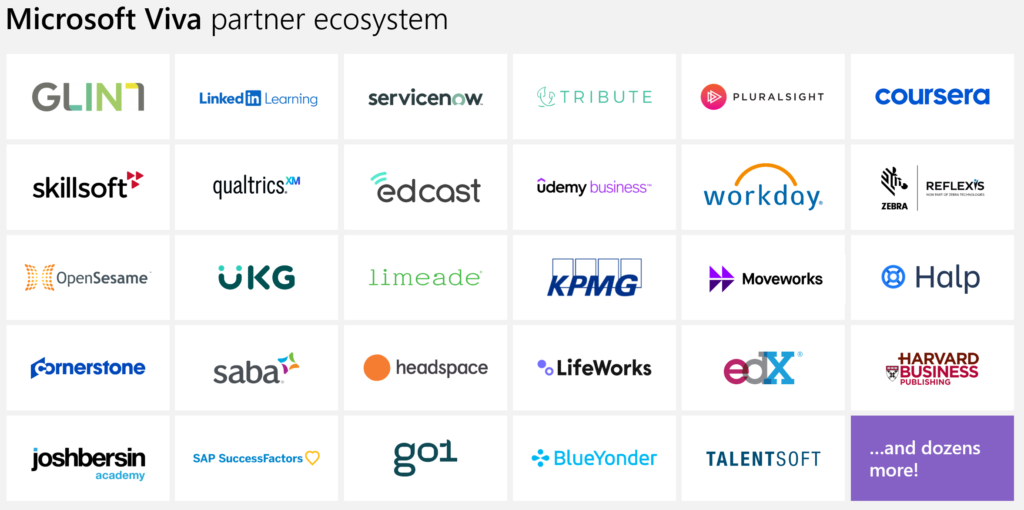 Looking at how Viva itself has grown and developed since it was first launched back in February 2021, I'm really excited to see how this will continue to mature over the next two years. Last year, we saw the first role-based experience with Viva Sales, and we're expecting more to follow.
We've also got the launch of both Viva Pulse and Viva Amplify to look forward to, as well as some of the features like Answers and Leadership Corner. Will glint be rebranded as a Viva product? Who knows, but I wouldn't be surprised if this happens at some point.
Alongside this though, with the rapid development of generative AI – and the commitment made by Microsoft to integrate GPT and OpenAI into all of their products – I can see really exciting times ahead. Last week, Microsoft already announced that GPT will be available within Viva Sales to automatically generate seller emails based on certain scenarios, and we can see AI capability landing in Teams Premium as well.
 I can't wait to see how else this shows up within the Viva platform and across Microsoft 365 as a whole – the future of employee experience is shaping up to be really exciting!