Writing a Great Session Abstract
In previous posts, I've talked about getting started with community speaking and how to set up your sessionize profile – today, we're going to look at how you write a great session abstract.
First of all though, it's helpful to understand why a good session abstract is important.
A good session abstract should help you stand out as a speaker when responding to calls for content – it is your opportunity to effectively communicate the unique value and relevance of your proposed session to the conference organizers.
A strong abstract can effectively communicate the unique perspectives, insights, and solutions that you will share during the session. It should clearly articulate the key takeaways and outcomes that attendees can expect from your session, demonstrating your ability to deliver a high-quality, engaging, and informative presentation. Writing a compelling session abstract can increase the chances of your session being selected for the conference and position you as a thought leader and professional in your field.
Writing your Session Abstract
I want to take a moment to give a huge shout-out to a long-time MVP and community stalwart, Tracy van der Schyff. Back in 2019, Tracy shared the image below that she created on Twitter and I stumbled across it. Ever since then, this has been the format that I've followed when writing session abstracts.
Additionally, I've shared this far and wide. I've shared it with colleagues who were taking their first baby steps into community speaking, I've shared it with fellow community members, and I've shared it with people who I've been mentoring / sponsoring through the MVP process.
This guide breaks down really clearly how to structure your session abstract so that it is clear and easy to understand. It tells the reviewer what you're going to talk about, it tells attendees what they will take away from your session and it includes the topics / technology areas that you will be covering in your session.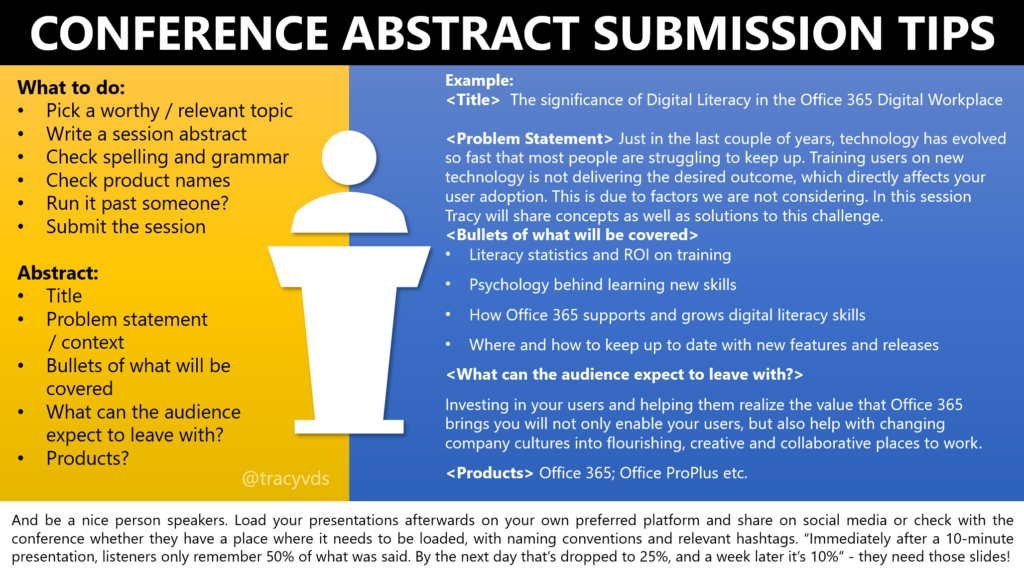 For accessibility reasons, I'm going to include some of the key messages from Tracy's image here, as the text is too long to add in alt text. Please note all of the below is Tracy's work and I am SO thankful that she shared this back in 2019, as nearly every session I've submitted has followed this format.
What to do:
Pick a worth / relevant topic
Write a session abstract
Check spelling and grammar
Check product names
Get someone to review it and provide feedback
Submit the session
When writing your abstract, the format should look something like this:
Title
Problem statement / context
Bullets of what will be covered
What can the audience expect to leave with?
Products
Example (remove the words in < > when submitting your own):
<Title> The significance of Digital Literacy in the Office 365 Digital Workplace
<Problem Statement> Just in the last couple of years, technology has evolved so fast that most people are struggling to keep up. Training users on new technology is not delivering the desired outcome, which directly affects your user adoption. This is due to factors that we are not considering. In this session, Tracy will share concepts as well as solutions to this challenge.
<Bullets of what will be covered>
Literacy statistics and ROI on training
Psychology behind learning new skills
How Office 365 supports and grows digital literacy skills
Where and how to keep up to date with new features and releases
<What can the audience expect to leave with?>
Investing in your users and helping them realise the value that Office 365 brings you will not only enable your users, but also help with changing company cultures to flourishing, creative and collaborative places to work.
<Products> Office 365, Office ProPlus etc
Tracy has also provided guidance on how to be a GOOD speaker. Taking care of the speaker admin is important – uploading slides in the way that the conference organisers have requested, or otherwise making them available to attendees.
This format has worked incredibly well for me. I've reviewed hundreds of sessions submitted to events where I've been part of the organising team or volunteering, and have seen some sessions which were submitted with either one line of text, or the other extreme, where the speaker has provided a wall of text and it isn't actually clear what they are talking about.
One thing I've found that works well for me is to start the "what can the audience expect to leave with" section with the phrase "by joining this session, attendees will…" – it helps you get the value proposition of your session really clear in your head, and that of the reviewer. Think about what people will learn or expect to take away from your session.
Use this format and follow the "what to do" instructions, and your session abstracts will stand out from the crowd.
Adding to the awesomeness that Tracy produced and kindly sent out into the world, I wanted to add some additional tips of my own.
Some events arrange for sessions to be reviewed blind, where the name and all identifying characteristics are hidden from the people scoring the sessions. This removes any unconscious bias that relates to gender, ethnicity, place of origin or anything else that reviewer may know about the person. It also reduces the risk of favouritism as well!
So PLEASE don't refer to yourself by name in your session abstract, and ideally don't use any gender-identifying language / pronouns, or include other identifying categoristics. This can make the process unfair when sessions are being blind reviewed, and to be honest, I've actually scored sessions less where speakers do this. This is not good speaker behaviour – use your profile and speaker bio to talk about yourself, your achievements and experience etc. The session abstract should be all about what you're delivering to the audience.
Additionally, if you follow the session abstract format above, you don't need to submit the content with the headings in place – these are just to help you to structure the content.
And lastly, don't make the abstract too long! For bigger events, organisers have hundreds and hundreds of submissions to read, so keep it clear, keep it concise, and make sure the value and benefits are clear.
Finding the Perfect Session Title
The title of your conference session is SUPER  important when responding to calls for content because it is the first impression that attendees and organizers will have of your proposed session.
A strong, clear, and concise title can help grab their attention, generate interest, and effectively communicate the key theme and focus of your session. A good title can also help your session stand out among a large number of submissions, making it easier for conference organisers to identify and shortlist the most relevant and valuable sessions for their event. A well-crafted title can also increase the visibility and discoverability of your session, making it easier for attendees to find and sign up for the sessions that align with their interests and goals.
For some of my sessions, I've spent longer on writing the title than I have on writing the entire session abstract. However, here's a cheat.
Start with your session abstract, and then go to ChatGPT and ask it to provide you with a catchy title! Run the query a few times, and use the best out of the bunch! Mark Rackley recommended this to me, and I've actually tested it with many of my old sessions, and found that the results in most cases were better than my own titles.
Hopefully this guidance makes it easier for you to structure a session abstract. One of the most important steps (especially when starting out) is getting feedback from someone else. Does it read well? Is it clear what the value is? And does it sound like a session they want to join?
It's worth noting that this isn't the only way to write session abstracts, however this has worked for me as it provides a clear structure that I can follow. It also makes it really easy for reviewers / organisers and attendees alike to know what they will get out of my session.
Good luck, and watch out for the next in this new speaker series, where I'll be sharing tips from community leaders about what they look for when reviewing sessions, as well as tips and tricks that they have for new speakers.