What is Employee Experience?
The world of work has been an incredibly stressful one for the last three years, with a huge amount of stress, pressure and flux affecting the way that we all work on a day-to-day basis, and impacting our employee experience. First, we all had to shift to working from home – for many of us, this happened almost overnight.
Not all organisations were ready to make the change, and the first half of 2020 saw many companies speed up projects to deploy tools like Microsoft Teams, to enable people to be able to work from home. Teams usage absolutely sky-rocketed, and I'm sure many of you remember the struggles with the quality of calls or issues with bandwidth usage in their area.
Then, things opened up again, and some companies started to try returning to work. Then we saw another lockdown, and another – before finally in 2021, things started opening up again, and moving to a semblance of normality.
The focus on Employee Experience
Some forward thinking companies were already starting to focus on employee experience (EX) prior to the pandemic – however, certain worrying trends emerged in the first half of 2020 which started to shine a light on the importance of thinking through what the employee experience should actually look like. Microsoft released the first Work Trend Index report and launched the Worklab site, where that and future research is published on a regular basis. In the first report, they shared the staggering increase that we all saw in Teams meetings – which makes sense, when you consider that this was the main way we were speaking with our co-workers.
Further reports published during 2020 highlighted the impact of increased collaboration, highlighting the mental fatigue from being in constant Teams meetings, as well as the increased burn-out that many of us experienced due to increased workweek span, increase in meetings and increase in notifications.
Microsoft responded to this challenge by announcing Microsoft Viva in 2021, which they describe as an employee experience platform.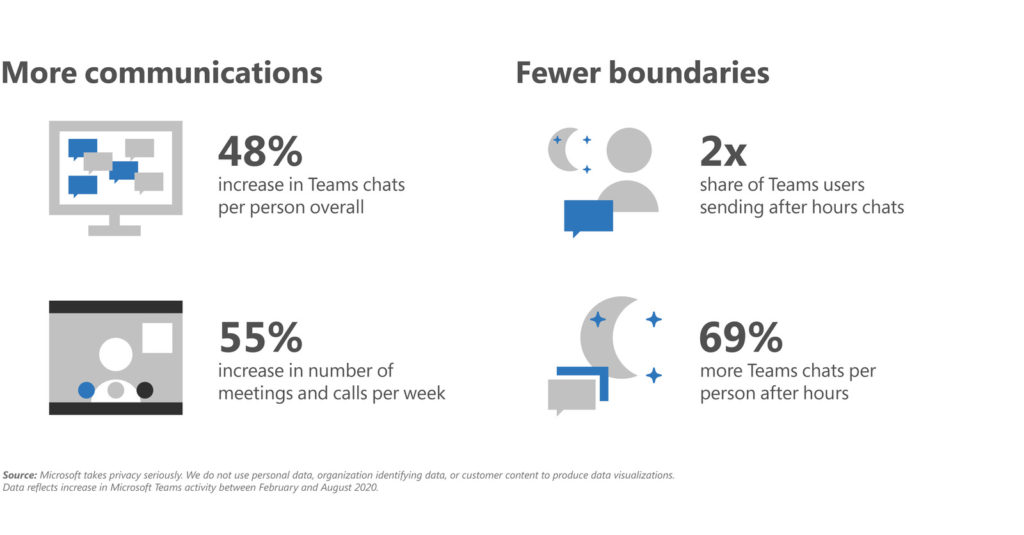 What do we mean by Employee Experience?
Many organisations are discarding the outdated and traditional term of Human Resources, and move to a more employee / people-centric terminology, with a focus on employee experience. It is a response to the fact that people are demanding and expecting more from their employer and the work that they do. The pandemic saw many of us changing our priorities – we've had a taste of increased flexibility, and work on our terms, and we like it. I saw a statistic on LinkedIn last week that said the number of job postings being advertised as remote had dropped to 1 in 8, but those remote jobs received approx 50% of the applications, which is just staggering.
So, we're expecting more from our employee experience. And that EX covers all of the interactions that we have with an employer from the moment that we connect with them, right the way through to the point at which we leave employment. It is how employees think about your business, and it will impact how we as employees show up and interact with organisations. It is felt in how organisations treat us, in the culture, transparency, in the systems and processes that we have to use and follow. It is the tools, the apps, the way that we work, the ease with which we can be most effective, and deliver business value.
Employers are recognising that they need to reimagine all aspects of their work – from recruitment, learning and development, benefits, how and when people work, the tools that they use, the levels of automation and innovation, the devices, the spaces and the places. The global war for talent will be won or lost by companies based on the employee experience that they offer.
McKinsey defines EX as "companies and people working together to create personalised, authentic experiences that ignite passion and tap into purpose to strengthen individual, team, and company performance". I like this definition, as it makes it feel more like a partnership between employers and employees, rather than something that just happens to us.
It is also important that we're able to quantitatively measure the employee experience – this could be through things that are measured systematically, such as device / app performance, or collaboration / productivity metrics. It also includes the need to measure sentiment, through a combination of pulse surveys and more formal engagement surveys.
Improving Company Performance
It's also important to recognise that there are wider benefits to improving the employee experience. Companies that get this right can expect to see higher retention rates, better engagement of key employees, and improved profitability.
The latest Work Trend Index pulse report published in September last year talks about how employee experience impacts business success, and their research found that only 15% of employees are engaged at work. They also found that highly engaged employees as 12x less likely to leave their company than those who are not engaged. Additionally, organisations with highly engaged employees have 23% greater profitability. 
This demonstrates that there is a huge amount of white space and potential improvement that can be achieved by turning the 85% of employees who are not highly engaged, into highly engaged individuals.
This is where Microsoft Viva can help. Viva is a suite of tools that bring together everything that employees need to be successful in this new world of work, integrated with the productivity and collaboration tools that we're typically all using every day.
The products within Viva support different stages of the employee experience, across the four key pillars of Connection, Insight, Purpose and Growth. Additionally, last year we saw the first role-based Viva product with the launch of Viva Sales, which is targeted at making a sellers role easier and more efficient / productive.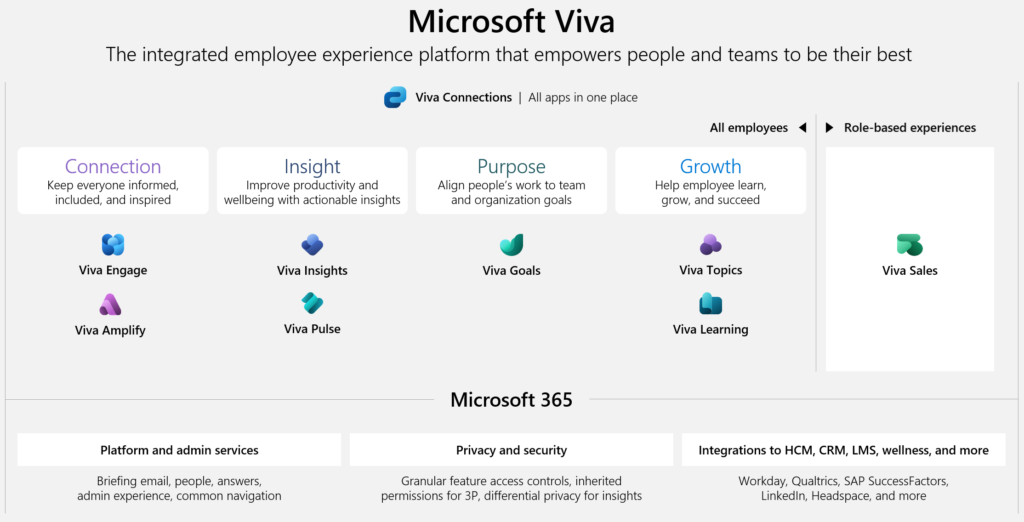 I will talk in more detail about the different components of Microsoft Viva in future blog posts, and you can follow the Viva Explorers to find out more about how to deploy Viva from a technical perspective. However for now, I wanted to share some of the key advantages that I think Microsoft Viva has compared to some of the more traditional HR focused products.
Firstly, Microsoft Viva is part of the Microsoft 365 ecosystem, benefiting from the deep integrated experience with Microsoft Teams, the entire Microsoft 365 ecosystem, third-party apps and integrates with the rest of the Microsoft Cloud.
Microsoft Viva taps into the power of the Microsoft Graph, to help turn workplace data and insights into actions, and connecting Microsoft 365 signals for smarter work.
Because it is built on the Microsoft Cloud, Viva benefits from the security and trust of the Microsoft tech stack – it is secure, with privacy at the forefront, and integrated with the wider security and compliance capabilities.
Lastly, it is extensible, integrates with a wide ecosystem of employee-centric platforms, and can be used as a platform for custom solutions for organisations.
Teams as the Experience Platform
Microsoft Viva has incredible capabilities to deliver an improved employee experience – making it easier for people to connect, to find, to do, to protect their time and manage their work-life balance. However, when considering what an employee experience looks like for your organisation, it is vital that you remember one really important fact.
The way that we all work today relies on Microsoft Team. It is the hub for teamwork, the place where work gets done – it is where we chat and collaborate, where we meet, where we learn, share, read and contribute. For many of us, Teams is the most used app on a daily basis, and should be absolutely front and centre of your employee experience strategy. The way that we access Microsoft Viva is via Microsoft Teams, and we can use Teams to integrate with and extend many of our other systems, making it the true front-door to the employee experience.
While Microsoft Viva may be categorised as an employee experience platform, I'd argue that Teams is the gateway to the employee experience within an organisation. Ensuring that you have an effective deployment of Teams can be the most powerful enabler for EX ahead of deploying tools like Viva, and integrating with back-end HR systems.